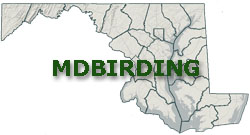 MDBirding is an open group for discussing the topics of birds and birding in Marland and DC. Discussions range from backyard birds to regional rarities. There are two main communication platforms for MDBirding, the Google Group Email Listserv and the Facebook Group. Read below to figure out main differences between the two groups. We encourage new members to join both groups to really get a sense of what Maryland & DC Birdng is all about!

The listserv uses Google Groups to power the discussions. Members simply email the group, and the email is immediately broadcast to all 1000+ members. This has proven to be a great way to get the word out about an exciting rarity or to sum up a day of birding in the field. We do have a few rules and guidelines for posting to this group. The menu at the top of this page has all of the information you need to get started. You'll find instructions on how to sign up and the list of best-posting guidelines.




Many of the members of the Google Group are also on Facebook, and in August of 2012, an MDBirding Facebook group was created. It has proven a success, and thus far over 1200 people have joined! The atmosphere here is a little different. It's much easier to post photos, ask for ID advice, or see if anyone wants to carpool or meet up for a day of birding. Click the link on the right to get started.